Shepherds Alphonso Mango Sorbet
We've been catching up with our only customer who uses sheep milk to produce ice cream. They also make a Shepherds Alphonso Mango Sorbet & Passion Fruit Sorbet.
Shepherds Ice Cream started making ice cream back in 1987, using sheep milk produced on their own farm on the Herefordshire/Wales border. From the beginning founders Juliet Noble & Martin Orbach made a conscious decision to take ice-cream direct to the consumer – in a cornet.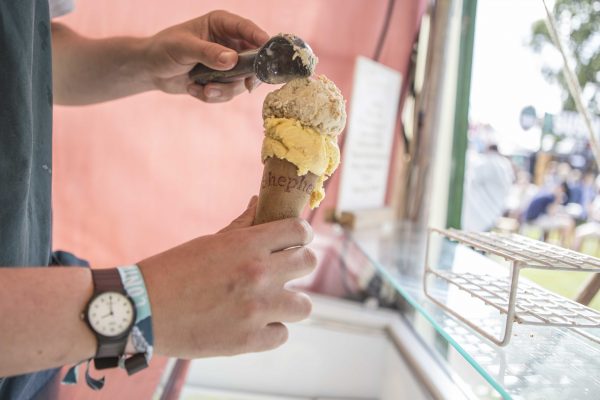 Juliet says "It's a philosophy we have stuck with and have never regretted. We retain control of our product all the way along the line; we have great flexibility of flavours; and we are continually in touch with the people who matter most, our customers.
Over the years we have taken our motley crew to festivals all over the country, from Womad to the Big Green. We'll claim we are Glastonbury's longest running food trader (maybe) and our ice cream has been devoured by folk dancers, foodies and book fans alike.
In 2000 we got a bricks and mortar premises when we opened our ice cream parlour in Hay-on-Wye. The parlour is now a Hay institution and in 2018 we sold it to Jess Hope-Jone who continues to sell our ice cream today."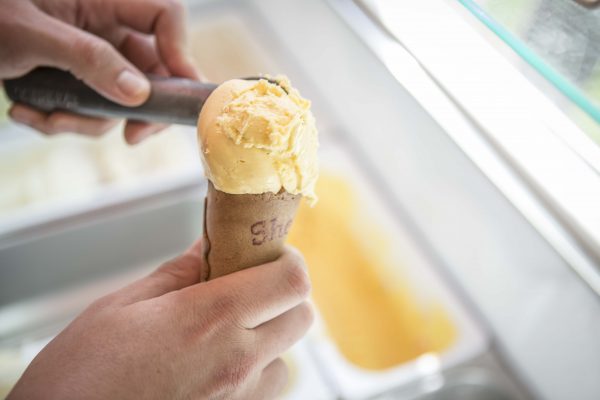 Recently things have moved on as Jessie Fleck joined the events side and our daughter Connie became part of the manufacturing team bringing fresh energy at a time when it was most needed.
As festivals were our bread and butter we needed to find another way of taking our ice cream directly to the customer, but this time in a pot. We have spent the last year delivering tubs of our ice cream around the county and we are excited to spread this further through national delivery"
With festivals now back on for this summer (all going well) Connie is excited to be taking Shepherds Ice Cream to WOMAD, Green Man festival and End of the Road festival. "This year the Hay Literature Festival (this was a regular fixture for Shepherds) is virtual and we are
suggesting people order ice cream for home to complete the virtual Hay Festival experience!"
See here for more details of our Mango recipes and visit the Shepherd's ice cream website to place an order